Northern Ireland v. Italy Match in Review.
October 8th, 2010 | by: Marco |

View Comments
Group C Match: Northern Ireland 0 – 0 Italy
When assessing what we witnessed earlier in the day, I believe there is a single question we should entertain. What was our objective in this match? Did we go out there to win? Or were we simply content with a draw against a team that can be labeled 'mediocre'?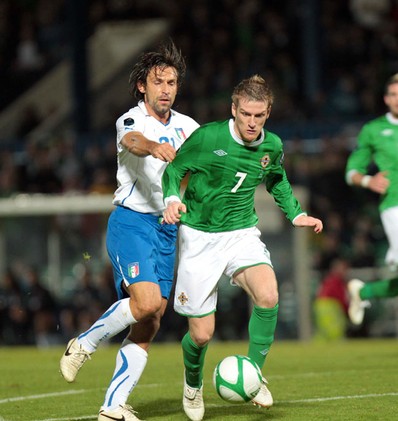 Had this match taken place during a Lippi tenure, we would have been content with the very predictable result. But, this isn't a Lippi team. This is very much a team built on a very 'anti' Lippi principal. Prandelli took over the job as national team manager three months ago making very foreign statements. Not so much foreign to you and I, but rather foreign to the concepts and principals the Italian media and the calcio establishment hold as their ideals. The statements included: (a) Meritocracy (b) Love of the media (I consider this nod to running a transparent regime) (c) We will play with flair and excitement.
Northern Ireland v. Italy in Belfast this afternoon/evening failed to live up to any of the three ideals Prandelli has promised to bestow upon the Azzurri. Prior to the match there was significant discussion over the 'meritocracy' ideal. Why were Zambrotta and Pepe among others selected for this Azzurri outfit? Where was the merit to those two puzzling selections? True Zambrotta didn't start or feature in this fixture. But what of Pepe. He played for nearly 85 minutes in this match. We all seem unanimous in our condemnation of this player and the attributes he brings to the pitch. I cannot fault him for playing, after all it's not his decision to be selected… that responsibility lies at the feet of the manager.
Which brings me to my second point. The Flair. See, under the Lippi regime, I had hoped for flair, but I never expected it. When I saw it in the lead up to the confederation cup in an exhibition match against none other than today's opponent, Northern Ireland, I was pleasantly surprised. This time around, we've had a coach who has been teasing the media and its audience about how well the Azzurri will be playing, how we will be pushing for the result and how it will be flashy!
The Statistics


At the onset of the match it became apparent to me and many of the participants in the liveblog today that not only were the Azzurri looking a little stale (no flair), but we had resorted during long stretches of the match to the infamous 'LONG BALL' – Now, I completely understand the ideological principal behind this erroneous tactic. You're playing against an english managed team why not stoop down to their level of play? Right? Oddly enough, with names like Pirlo, DeRossi, and Mauri filling our midfield, we looked second rate for long stretches of the match in this second of the field. I'd further establish that because our midfield was so inadequate and incapable of carrying the ball forward, we needed to resort to the long ball game plan. Once it became apparent that such a disconnect would hamper our play, you then begin to think about some of the strikers we have in front of our inept midfield.
Cassano, with all the talent in the world, is not going to beat a burley 6 foot 2 + Irishman to a lobbed ball from half the park away. Borriello, himself a prima punta, is far too slow and immobile to be chasing the lobbed De Rossi pass and Pepe, well… you get my drift. In fact on this day, the only significant improvement in the Prandelli starting XI was at the back end of the pitch, where the back four looked a little more comfortable playing alongside each other. Albeit, they did make an error or two, but hey it comes with the territory.
Player Ratings
Emiliano Viviano: 7.0 : Look fine when tested. However, he was hardly tested, the important thing is that on the night he kept the clean sheet.
Mattia Cassani: 6.5 : Defensively he didn't do much. There was hardly any penetrating runs through his corridor, mainly because most of the players on both sides recognized that Pepe was a detriment to everyone on the field and preferred to stick to the other side of the pitch. Honestly though, when he came forward he was clever with his runs, however, I expected more from him in the offensive capacity.
Leonardo Bonucci 6.0 : Sloppy challenges at times. Hardly tested, but he was caught for poor marking when a cross was headed just wide of the post by the opposition.
Giorgio Chiellini 7.0 : I thought he was as sturdy as he could be. He even moved the ball through the midfield on a couple of occasions.
Domenico Criscito 6.5 : Came forward, saw some action. Had a nice instance of a give and go with Cassano. But truly, don't we have better LB's than this kid? I can think of three lads off the top of my head who I'd give a shot to before this kid. Zambrotta and Molinaro are not one of them.
Daniele De Rossi 4.5 : It's strictly business. He needs to sit against serbia. When Cassano gifted him the ball at the edge of the box he made his impression. Having the capacity for 1 screamer shot ever 4 matches isn't enough reason to be starting at the highest level. It's time to give some other people a go.
Andrea Pirlo 6.5 : He has the vision, but his pace just isn't there. A time or two tonight it was apparent that he was simply too slow. I'd rather see a Giovinco distributing the ball from his position.
Stefano Mauri 4.0 : One word invisible. Perhaps nervous, I don't know. Why he wasn't subbed off at half time is beyond me.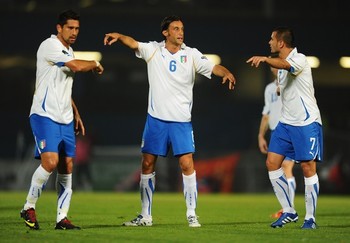 Simone Pepe 2.5 : Awful. Can't complete a pass. Can't score a gimmey a goal. Watching him play reminds me when we were kids playing football and avoiding the slowest fattest kid on the field. (im sorry) But, you could visibly see Cassano and Pirlo avoiding this guy. He's an utter mess. There was on instance where the ball was passed in the direction of Pepe, and Cassano runs directly in front of him and intercepts the pass to avoid Pepe screwing it up.
Marco Borriello 3.4 : Didn't get serviced. But when he did, he did nothing with it. I'd rather watch Amauri (Yes… I said it
)
Antonio Cassano 7.0 : Disappeared for portions of the game. The Irish were intent on drowning him out. Heck with Pepe on the pitch they could avoid marking him in favour of focusing on Cassano. But he was involved in a number of key plays throughout the match.
Concluding Thoughts: Primarily this is a very Italian result. We all knew in our heart of hearts we were going to tie this squad, there was just no other way around it. But we expected more. What the concerning factor is Prandelli's decision making. Why did he wait so bloody long to make a change? There were key ingredients that were firing off in the wrong direction since the start of the match, yet, he was reluctant. I'd rather see a manager make a change in the first half admitting to a tactical mistake then what we witnessed today. We saw a manager nurse the situation and settle for a neutral result.
Let's also keep in mind, before we go off the rocker over here, that players like Balotelli and Giovinco are injured. There is no assurance by the manager that he'd even consider calling up Giovinco, but Balotelli is a shoe in when he's ready and able to hit the pitch – albeit as long as he's not breaking into a women's jail. As for calls for Balzaretti, I can only guesstimate that if the pressure continues to mount for this selection to be undertaken, he'll likely bow to the media. The fact that he openly answered the question demonstrates that he will not take the ignorant approach to his player selection philosophy, albeit, his remarks were head scratching.

I expect a different Azzurri for the Serbia match. Serbia did lose today and it'll be fully expectant that they will be firing on all cylinders for our clash with them on Tuesday. If we are going to have an opportunity at a positive result we will need to be playing our best players. That means, Pazzini and Rossi have to start, thus sending Pepe and Borriello to the reclusive bench. I wouldn't consider starting DeRossi either, I think Palombo has both the talent and skill in the CDM position to get the job done. Furthermore, he also packs a screamer of a shot like DeRossi. We also need to move away from this 4-3-3 nonsense. It's simply not working, our presence in the midfield is completely invisible. I'd rather see the Ancellotti Christmas Tree being executed with Rossi and Cassano playing behind Pazzini.
As Voted by You! During the liveblog I ran a series of polls. Here are some of the results:
Who was the best dressed manager for the Azzurri:
Donadoni in a Track suit = 0%
Lippi in a Track suit = 18%
Prandelli in a suit = 64%
Lippi in a suit = 18%
Man of the Match
Cassano – 29%
Pirlo – 14%
Viviano – 7%
Pepe – 43%
DeRossi – 7%
Chiellini – 0%
*Despite my remarks on Pepe above, it turns out, according to you, that he was the standout of this match!
Subscribe

Italy World Cup Blog RSS Feed

Share
blog comments powered by Disqus