Italy-Germany Review: Five Points to Take Home
February 10th, 2011 | by: Julian |

Comments Off
Cesare Prandelli continued Italy's impressive unbeaten streak (lest we forget gli azzurri went over half of 2010 without a single victory) in a 1-1 draw against Germany. Below are five points that azzurri fans, as well as Prandelli himself, can take pride in.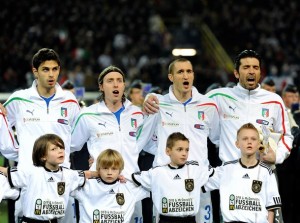 1. Italy's defense is back. Andrea Ranocchia was rather studly for most of the match, and overall the backline looked incredibly solid. This is a Germany side that put four past the likes of Argentina and England in the World Cup, and friendly or not, limiting them to an early goal was very positive. Gigi Buffon? He's back. Giorgio Chiellini did a very solid job deputizing at left-back, and Matteo Cassani seems to have taken the right back spot by the horns. Once Balzaretti is back, Prandelli's biggest headache will be who stands in as centerbacks. Based on the evidence, a Ranocchia-Chiellini defense could be absolutely superb, the two complimenting each other very well in theory. Should worse come to worse, throwing on Leonardo Bonucci from the bench is an excellent option to have in reserve.
2. Cesare Prandelli is the right man for the job. He's calling up players based on form; he's treating every game, friendly or not, seriously; he's not afraid to experiment and changed the entire frontline during the match. The team recovered from a goal down largely thanks to his substitutions. What a breath of fresh air compared to his predecessor.
3. Montolivo, however, is not, but Aquilani is. Riccardo Montolivo has now been given several attempts to impress at the national level, and has yet to truly succeed. He looked rather out of his depth and his replacement, Alberto Aquilani, looked much more composed and was much more influential, providing a great ball to Marco Borriello who couldn't slot it in. If Pirlo's days on the side are numbered, then it is the former Roman midfielder who has shown that he can inherit the role. The aforementioned ball to Borriello was pure vintage Pirlo.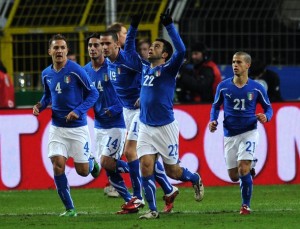 4. Giuseppe Rossi has earned a starting position. The New Jersey native has been on fire for Villareal this year, with 12 goals in 22 games. Prandelli rarely used him last year when testing a 4-2-3-1, but after his goal against Germany, there's no reason why he should be left out. His linkup play with Marco Borriello was surprisingly great for two players who have rarely, if ever, played together before. His goal was impressive, showing intelligence to make the run and composure to slot it in past a tremendous goalie in Manuel Neuer. Along with Ranocchia, it was his reputation who really grew on the night.
5. The fire has returned, as well. On any other night Italy could have had up to three penalties, and whilst seeking penalties is not the best way to get goals, it is encouraging that the players kept on pushing to score. Prandelli seems to have all the players motivated and playing very intelligent soccer- defending and attacking adeptly.
Several other talking points: Cassano was a bit…pudgy but hopefully playing time with Milan will decrease the waistline that Garrone gave him. Buffon had a solid game after letting in an iffy goal, as well, and Maggio did very well in the fullback slot. What once was a huge weakness just a short while ago now has quite a few options- the Napoli man, the two Palermo players, and Keyser Giorgio should the need ever arise.
Overall, it was merely a friendly, and by no means a perfect performance from us, but a very encouraging one. Games against Germany are never "friendlies" and it was played at a pace much closer to an actual match. If a several month old Italy can stifle a brilliant, 3 year old Germany side, then imagine what could become of this team by the time the Euros roll around- not to mention, the World Cup.
Quite simply, I'm falling in love with gli azzurri all over again, thanks to the passion, the verve, and the spirit of the group.
Marco will have a more traditional review up tomorrow.
—————————
Follow the Italy WorldCupBlog on Twitter @ITA_WorldCup as well as Julian's own account @JulianWCB and Marco's @Marco_WCB
Subscribe

Italy World Cup Blog RSS Feed

Share
Comments are closed