Celebrating Mediocrity
September 3rd, 2010 | by: Julian |

View Comments
It seemed like a typical Azzurri 2010 game. In fact, it could've been scripted. Italians starting off rather well? Check. Decent amount of possession? Check. Conceding a goal from the opponent's first shot on target? Check and mate. It would almost seem humorous if it wasn't so embarrassing and disheartening. It really did seem like the calcio gods conspired against Italy, once again. A change in coach, outfield players, tactics, formation- heck, even goalie- couldn't prevent everything from going as it did all year. Today against Estonia, Italy looked like their winless rut would continue for another weekend. Until the 60th minute.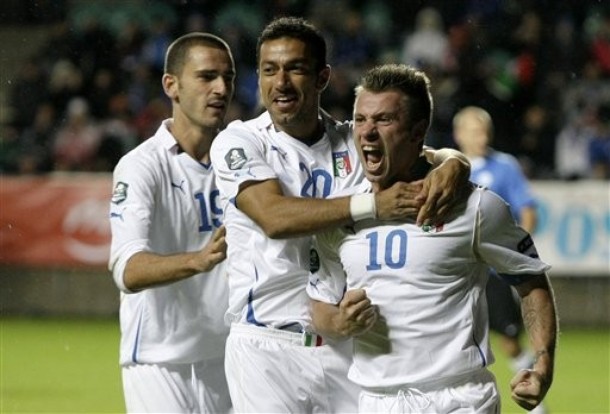 Until Antonio Cassano exploited the space created by Leonardo Bonucci on a beauty of a corner from Andrea Pirlo, most Italy fans were pretty disappointed. As one fan put it in the livechat, this had happened so many times that emotions were bordering on apathetic. Gli azzurri started out rather well. They kept the ball in Estonia's half and had decent possession, though the final ball was often rather poor. Estonia seemed happy to allow Italy possession, and then try to score on quick counter attacks. They went close once before snatching the goal off a free kick. Sirigu dove to save it, but the rebound fell right to an Estonia player who put it away.
Typical Italy. Give away a free kick and concede from the ensuing play.
From then on, the match seemed rather hopeless. Pirlo shone in his regista role- a few misplaced passes did occur, but without him the rest of the midfield just seems lost. Pazzini always looked dangerous once the ball reached him but it rarely did. Pepe simply isn't up to par at this level and it's likely that he's played his last game for Italy. He runs and runs but his crosses are terrible and he contributes little offensively. Rossi surely would've been a better prospect, but the Villareal man didn't even make the bench. The rest of the team was largely invisible, except for the one man from Bari who tried to make a difference.
And what a difference he can make. His first goal was out of the blue, from nowhere when all hope seemed lost. Surprisingly, the five foot nine inch playmaker was able to head the ball in off of a corner. Perhaps not surprising was that the goal occurred right after Pepe was subbed off. His replacement Quagliarella did little on the night, but it seemed fitting that the azzurri were finally able to score once Pepe left. Cassano's second contribution was simply magical. Off another corner, he backheeled the ball right into the path of Bonucci, who was able to slam it over the line. The rest of the game was more of a hold-onto-the-lead-and-pray-they-don't-score approach, but for once this year, Italy left the field with three points.
Make no mistake- this is truly a mediocre result. A once powerhouse barely squeaking by a tiny nation is really nothing to write home about. Germany or Spain would be embarrassed by the result. But such has been the year for Italy, that even the tiniest of victories allows for a collective sigh of relief. It's really been that long for Italy: so long that even a 2-1 result, even in a game where arguably the better team lost, feels welcome.
Surely a result that any Italy fan will take, even if it is just Estonia.
———
Tops and Flops
Tops
Cassano. Truly the only player that deserved it. When everyone else seemed to be incapable of doing anything effective, Fantantonio kept ticking away. His passes were always trying to stretch Estonia, and it was magic on his part that got us the second goal. At 28, questions remain over whether he can lead us come next World Cup given that he'll be 32 at the time. For the upcoming Euros, though, he deserves to have the team built around him. After that, we can see how Giovinco's doing and maybe he can slot in for him as the central playmaker. For the immediate future, the Azzurri owes itself to Cassano. Honorable mention to Pirlo.
Flops
The game itself. For the most part, it was a dull game of football. Italy isn't exactly free scoring Spain even at it's best, and Estonia looked content to play on the counter. Terrible and boring for large parts it was, though the result is terribly welcome.
Pepe. If Prandelli means what he says about a meritocracy, this was almost definitely Pepe's last game in azzurro. He contributes almost nothing to the squad and clearly doesn't have the talent at this level. His crosses, passes, and dribbles were all poor and more often than not, he put the ball in the path of an Estonian.
De Rossi. He needs to step up his game. For someone who won the World Cup at such a young age, Daniele is becoming less effective. Clearly the azzurri doesn't mean as much to him as Roma does, but if he doesn't start showing up than he should be benched.
Estonia's goalie. I've never seen such an unsure goalie. It was almost comical at times to watch him deal with crosses.
Odds and Ends
There were a few interesting occurrences throughout the match. One was that play was often built up through the left hand side of the field, where Molinaro patrolled. It seemed really frustrating, considering that Cassani was on the right flank and surely much better of crossing and dribbling than the former Juve man. Upon further inspection, though, this happened because Cassano was playing on the left side of the attack trident in Prandelli's 4-3-3. The team clearly wanted play to go through Cassano, which had the unfortunate side effect of also going through Molinaro. One possibility for Prandelli is to start Fantantonio in the center, in a 4-2-3-1 or a 4-3-1-2. This would allow him the freedom to orchestrate from the center and also not involved Molinaro as much. Of course, Prandelli could simply drop Molinaro but Cassano seems better suited to the center of the pitch.
At any rate, the win should help with this.
Pazzini seems like the real deal. He didn't score, but he wasn't afraid to take shots and it's only a matter of time before one of those lands in the net.
Bonucci: 4 games, 2 goals. If he was a striker that'd be a great record. For a defender, it's phenomenal.
Molinaro showed a lot of heart out there. For a mediocre player, he makes up for it with his work-rate (Pepe, take notes). He saved us from one sure goal by running back and dispossessing a player who probably had Chiellini beat. The camera showed his knees at one point and he was bleeding. From both. He doesn't deserve to start but as a 75th minute sub if we're ever up 4 or 5 nil, there's probably no one who deserves it more.
Balotelli's return is more than welcome. As for Bonucci, I still have faith in him. He'll be playing alongside Chiellini all year at Juve. Come the end of the season, they should have quite the partnership. Even more exciting is that Ranocchia seems ready for a callup, and he's arguable the most talented defender we've got. Three good-to-great centerbacks fighting for a spot? Maybe this is the beginning of the end of our defensive worries.
Note to the RAI cameraman- stop showing Gila every few minutes. He's on the sidelines for a reason.
Highlights:

Subscribe

Italy World Cup Blog RSS Feed

Share
blog comments powered by Disqus