Is Pippo still Azzurri worthy ?
April 18th, 2008 | by: Marco Stucazzo |

View Comments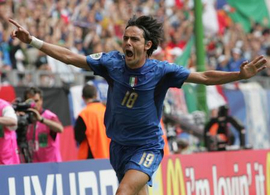 I've always had a love/hate relationship with Inzaghi. As a youngster, Inzaghi was one of my favourite players. Even the fact that he wore the Yankee-esque pinstripes of Juventus didn't smother my appreciation for the striker. It's purely irrationnal, i just like the fact he has the letters Z-I and G in his name, i find it rolls off the tongue quite nicely
Pippo isn't your prototypical athlete ; He's frail, doesn't posess the stereotypical professional Athletes' body , is useless if he's more than 8 yards away from the keeper, always offside, always bitching and probably the most selfish striker in Serie A. But you can't argue with results. Pippo has the timing of an excellent stand up comedian and has a supernatural way of being always at the right place at the right time (Just ask Liverpool or anyone from Athens)
These goals pretty much sum up Pippo Inzaghi for me :
and of course…
But age and injuries have gotten to the Ac Milan super striker and that's why his spot in the Euro 2008 squad is all but guaranteed. Pippo can be an excellent option off the bench, like Marcello Lippi showed us in 2006, but is he useful enough to take away a striking spot from a deserving youngster ?
I'd like you to answer that !
Subscribe

Italy World Cup Blog RSS Feed

Share
blog comments powered by Disqus