Well Serie A Sure Has Been Interesting So Far
September 25th, 2008 | by: Julian |

View Comments
Sorry for the lack of updates, but there's been zilch news on the international front. Buffon is injured but should be back in time for our next qualifiers. Pirlo is out for 2 months so we'll have to make due without him. Everything else- including the call ups- still are yet to be announced. So for an Azzurri blog, it's kinda hard to write when there's no Azzurri news.
But I have been watching a ton of Serie A lately. Based on what we've seen so far, it's gonna be a very interesting year.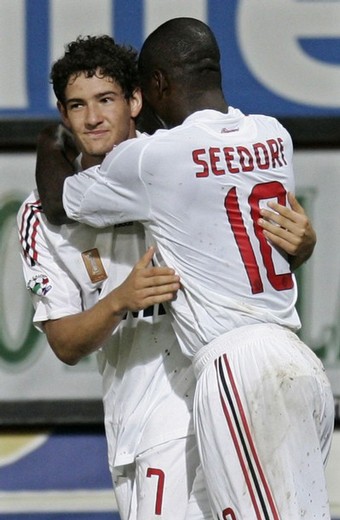 Milan finally got out of their funk, though we'll see this weekend if they're really out of it. Inter are looking pretty good, though Juve stuttered a bit yesterday.
But the talking point (for me anyway) is Roma. What the hell? A 3-1 loss to Genoa is just unacceptable. Something's gotta give. A team that's pushing for the Scudetto can't drop point this often and so early in the season. The defense is a mess, and yes there's a ton of injuries. But you can only blame injuries and a lack of money so much. The fluid attacking football from last year has only been seen in glimpses. Spalletti has got to figure out what's wrong, and figure it out very soon. The ref was horrible and disallowed a Panuc goal for no reason, but still. The mentality just isn't there and it's gotta be instilled asap.
So this weekend, lots to look forward to. The Milan derby is undoubtedly huge, and Juve are playing Samp, which could be a great game. Samp are another team who've had a crappy start to the season, but they too have the coach who can help them out.
Subscribe

Italy World Cup Blog RSS Feed

Share
blog comments powered by Disqus