Through to the Quarterfinals!
August 10th, 2008 | by: Julian |

View Comments
All those pre-game worries seemed to be in vain. Did the Azzurri really gel against Honduras? I mean, those guys are just pushovers- what if Korea are a fitter, more technically gifted team? We had 2 penalties and only one goal from open play last time. Are we going to be able to score more from open play now?
The answer- a resounding "Shut up. We're going for gold and we got this"

We're through to the quarterfinals, as you may have guessed from the title of this post. Korea went down 3-0, thanks to goals from Rossi, Rocchi, and Montolivo(Click the link for vids! If anyone can figure out where to get the html on that site so I can embed the vids here, please write it in the comments below). Here's the write up, courtesy of channel4.com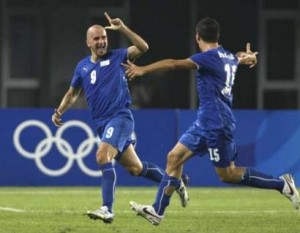 Line ups for the match were:
Italy: Viviano; Motta, Coda, Criscito, Bocchetti; Montolivo, Cigarini, Nocerino; Giovinco (Abate 77), Rossi (Dessena 82); Rocchi (Acquafresca 58)
South Korea: Jung Sung Ryong; Shin Kwang Hoon, Kim Jin Kyu, Kang Min Soo, Kim Dong Jin; Oh Jang Eun (Cho Young Cheol 85), Ki Sung Yong, Kim Jung Woo; Park Chu Young, Shin Young Rok, Lee Keun Ho
Apparently, Giovinco again had a good game, forcing everyone's favorite Soul Caliber warrior Ryong into a couple good saves. Obviously, the three strikers who scored also did well, and once again we conceded no goals. I really couldn't be happier. 6 goals in 2 games with 0 let in? Makes you kinda wish we brought these guys to the Euros instead of Materazzi and Barzagli.
Now this was expected- I would've been pissed if we didn't beat Korea. The good thing out of this is that we have a really good shot now of avoiding Brazil until the semis at the earliest. If we win the next game, we'll most likely have to play Belgium. And hey, it might just be me, but I'd rather play them than Brazil.
In other Group D news, Cameroon beat Honduras 1-0.
This is currently how Group D looks:
Italy-6 points
Cameroon-4
Korea-1
Honduras-0
So basically, Italy are already through and Honduras are already out. Cameroon looks most likely to join Italy and go through to the quarters, but it'll be tough to predict. Why? Well they play Italy next, while Korea have Honduras. If Korea beat Honduras and Cameroon lose to Italy- both very likely scenarios- Korea has to score 4 goals just to match Cameroon's goal differential. It's a tough task, but if you can score 4 goals against any team in this group, it might as well be Honduras.
Up next for our Olympic team- Cameroon in 3 days. We need to win, just to ensure we don't have to face Brazil next round. The way this works is that the top team of our group- D- face the second team in group C, and vice versa. So if we lose, we'll finish second and will probably have to face the South American giants, who look very likely to top their group.
Forza Azzurri!
Subscribe

Italy World Cup Blog RSS Feed

Share
blog comments powered by Disqus