Champions League Day Uno Part 1
September 16th, 2008 | by: Julian |

View Comments
Today
Basically, today was a mixed start for Italian clubs in the CL.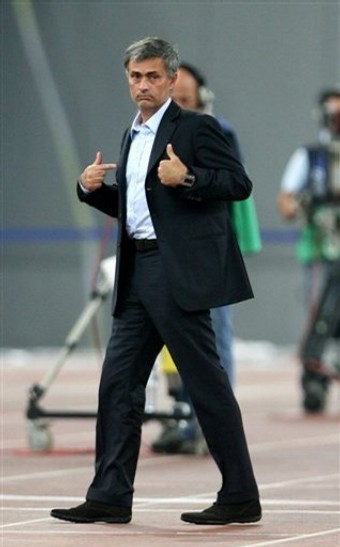 Inter started off greatly, with a 2-0 win over Panathinaikos. The Brazilian tag-team duo Adriano (!) and Mancini both got on the scoresheet, which is pretty ironic, considering last year both of them kinda sucked–Mancini was wildly inconsistent and Adriano was sent out on loan. But they're at Inter now and started off their European careers there with goals. Mourinho was so happy with the win that he shot his nipples (see above) and praised Ibra. I didn't see the game so I don't want to comment on it, but this is obviously a great start for Inter. They tend to lose the first game of the CL every year- with a win today, have they finally broken their European jinx?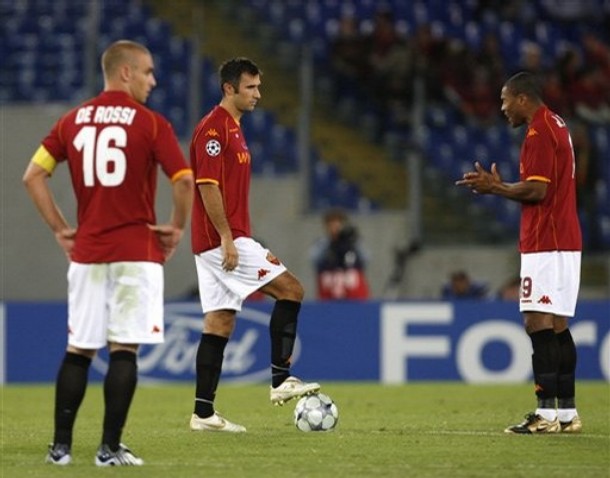 Roma, on the other hand would be wishing they had Mancini to score a goal… Roma, Roma, Roma: My favorite club and the one that seems to be struggling the most at the moment. They lost 2-1 to CFR Cluj, despite taking an early lead. I dunno what it is with Roma and losing after early leads, but it's a pretty alarming pattern. But I did see the end of this one so I will comment on it. There were some positives to be taken from the game- Totti is back, and DDR played pretty well. But holy crap do they need Mexes and Juan asap. Spalletti seems optomistic about bouncing back, but if they don't soon then there might be problems. Ie, his job.
Tomorrow
Tomorrow Fior and Juve play, and both have pretty tough games. Juve's up against Zenit, winners of the UEFA Cup who famously defeated Man U this year in the Super Cup. So yeah, not exactly a cakewalk. And Fiorentina have the task of beating Olympique Lyonnais. Both teams are pretty evenly matched, so it should be a good game.
Hopefully both Juve and Fior win tomorrow and get started on the right foot. I wanna see the trophy in Italy this year, dammit.
Subscribe

Italy World Cup Blog RSS Feed

Share
blog comments powered by Disqus