Azz…zzz…urri News
July 30th, 2008 | by: Julian |

View Comments
A lot of stuff seems to be going on in the soccer world. Trades, little friendly tourneys(see below for more on that), injuries… yet nothing seems to be happening with national teams. Or at least, not with Italy.
So I didn't post yesterday because, well, there was nothing to post about. And today, it's basically the same situation. There's a tiny update, actually- the Azzurri squad that's traveling to Beijing cancelled a friendly because of "security concerns". The Olympic torch that's making it's way slowly to Beijing is going to be right by where the game would've taken place, and so they thought it'd be a good idea to call off the game.
And since there's no Azzurri news, I thought I'd give you guys some updates on Serie A in general (Yeah, I know this is the national team blog, but hey. At least you're getting something)
AC Milan won the TIM trophy. It's basically a meaningless set of 3 45-minute games that was played between Inter, Milan, and Juve this year (It also has a crazy scoring system where you get points for losing on penalties, I think). Inter didn't win a single game, though. Makes you wonder what Mourinho needs to do to fine tune his squad. At Chelsea, Mourinho made a team that was boring, dull, but constantly winning. Can he do the same at Inter? Maybe, but looking at Moratti's record of hiring people he'll probably be fired by 2011 anyway.
In terms of other news, there's just a hodgepodge of craziness.
Roma to sell Aquilani (doubtful). This kid came up through the Roma youth system and is adored by the tifosi. Kalac has a better chance of being considered "great" than this happening. Oh, wait…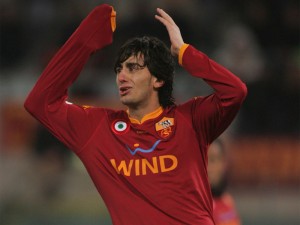 Look at how sad he is. All these transfer rumors are making Aquiliani cry.
Kalac claiming that Milan have 3 great goalies. That's just absurd. Kalac is nowhere near the quality of Buffon or Frey and Dida is a walking joke. Abbiati is the only one who might be able to even be considered "great", and he'll have to prove himself this year.
And finally, Prandelli doesn't think the current Fiorentina squad can win the Scudetto. That's somewhat surprising considering how much they've strengthened over the summer but probably realistic.
Subscribe

Italy World Cup Blog RSS Feed

Share
blog comments powered by Disqus