Calling Abate?
May 18th, 2011 | by: elaine |

Comments Off
With the upcoming Euro 2012 Qualifier vs. Estonia on Friday, June 3rd in Modena and the recently confirmed Friendly vs. Giovanni Trappatoni's Republic of Ireland on Tuesday, June 7th in Liege, Belgium, the discussion of callups has begun. Specifically, one player is getting a lot of attention, and that is AC Milan's right back, Ignazio Abate.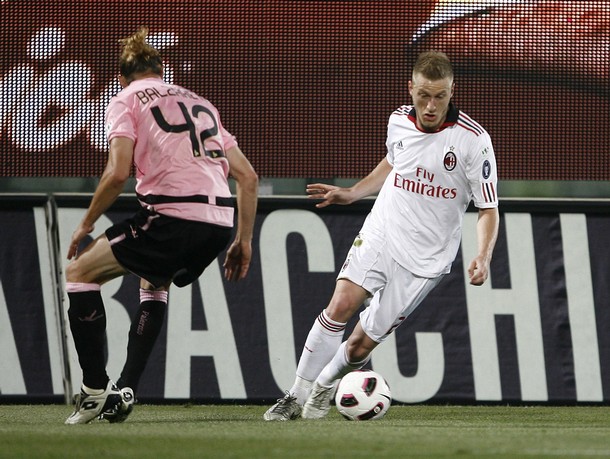 Abate is the only Italy international eligible member of the back four of the best defense in Serie A this season, as well as part of the scudetto-winning team. Of that back line, Nesta and Zambrotta have retired from International duty and Thiago Silva plays for Brazil. Additionally, Abate has played through the ranks of the Azzurrini.
He has stunning pace, great positioning, solid crossing skills, and surprising tackling abilities. His awareness has improved so much over the past year that he even saved the great Nesta and Silva duo a few times by running across behind them when their man slipped past them. And don't let that baby face fool you, he will dispossess you, sprint toward goal and have the ball safely delivered to a goal scorer before you realize what has happened. The kid is that good. But does Prandelli see things the same way?
Tuesday's La Gazzetta dello Sport quoted Cesare Prandelli as saying "Abate has had a great season, but also Cassani and Maggio have done well. For now, I plan to work more or less with the same players that I've called up recently, but I'll keep an eye on Abate and if he keeps it up, sooner or later he could be part of my group."
This attitude is disappointing. What a perfect way to rebuild the Azzurri squad – bring in a brilliant young full back, have him be an understudy to Cassani, gaining wisdom from a great, and then be ready whenever Cassani is injured or retires from International duty. Initially, I thought he was being conservative with his defense, as experience is more important with defenders. But having read this, it seems that he is ignorant of what many others see as the next great Italian right back, as well as being blind to the stats, highlight reels, and basic common sense given his success this year.
If you have not seen him in action, check out this little nugget from a few years back with the Azzurrini. It's what I like to call Turbo Abate:
So what do you think? Are all of the people calling for a callup crazy? Or do you think they are on to something? Will Abate be to Prandelli like Cassano was to Lippi? Because if so, I volunteer to be the pitch invader.
Subscribe

Italy World Cup Blog RSS Feed

Share
Comments are closed