A Fan By Any Other Name… (NSFJW)
January 28th, 2012 | by: elaine |

Comments Off
Warning: NSFJW (Not Safe For Jealous Women)
Sometimes, we get so caught up in what divides us, we forget about that which unites us: gli Azzurri. But it's already 2012, and in a few short months, our beloved boys in blue will be competing for the distinction of being the best national team in all of Europe. Women already know that we have the best looking team, that is not even contested. But if our boys are to be the best on the pitch, too, then they need the best fans. Fans who are united under the Tricolore, who live and breathe for the Savoy blue and white uniforms.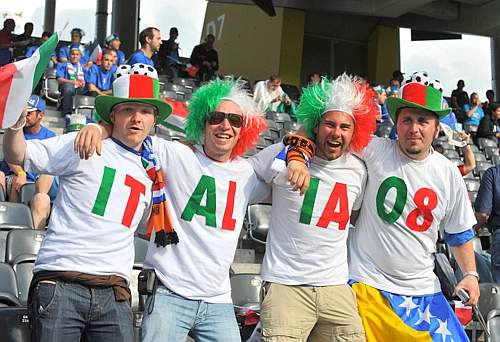 A fan is a fan, whether bandwagon or longsuffering. When it comes to important tournaments we need not bicker or challenge one another, but rather lift one another up, singing and shouting and helping each other launch bottle rockets and toss smoke bombs and flares at the opposing keeper. Anyone can wave the Italian flag. And during a tournament is not the time to question how long one has been waving it. (Save that for qualifiers, please.)
It never ceases to amaze me the lengths some people will go to in order to support our team, though. Take these lovely fans, for example. They barely have enough clothes to cover themselves, and yet they are still proud to support their team: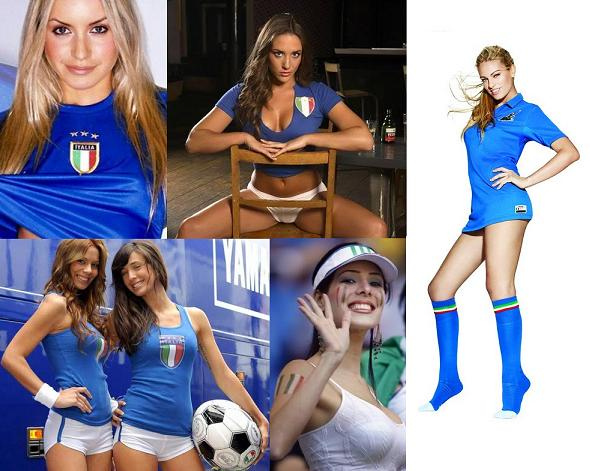 God bless them. And other, even more impoverished fans like this one, who actually have no clothes at all, but have instead had the colors of their team painted on their bodies in a show of beautiful solidarity. This is the type of commitment we are looking for: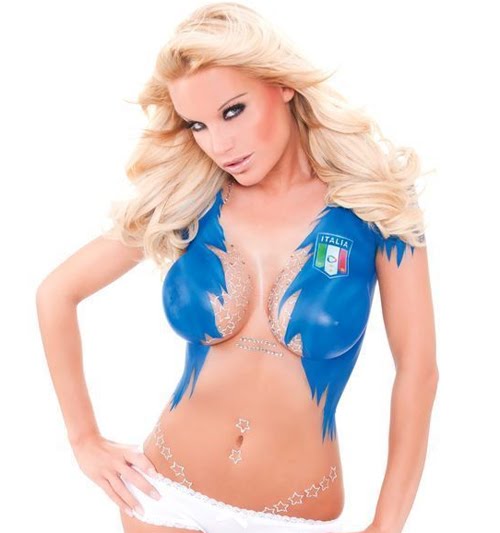 My point is this: It is time to unite as fans. No more "You're a stinking Celeste" aimed at AlbinoLeffe fans. Or chants of "Brianzoli vaffanculo." Or comparing recent Azzurri callup Simone Farina with the legendary Umberto Caligaris, for example. No. If Italy are going to take a European title this summer, they need the full support of every fan. Young or old, new or established, clothed or not.
And so I would like us to band together under a giant Italian flag and brainstorm ways that we can support our boys this summer. Not comparing or one-upping, just sharing, so we all have ideas as to how to be the best fans we can be individually and collectively. Please post your ideas in the comments section so we can prepare to launch gli Azzurri into European glory.
Elaine is back, and there is nothing you can do about it. She, Gadsby, and Sam make up the perfect Azzurri triumvirate, so resistance is futile. We are the ultimate Azzurri Triple Threat. Also, Masonio has been a WCB orphan for too long.  So watch your back, because she is going to bring it. (What "it" is has yet to be determined. Sorry, no refunds.)
Follow Elaine @ItalyWCB or you won't know when to avoid this blog.
Subscribe

Italy World Cup Blog RSS Feed

Share
Comments are closed