Euro No Shows : Super Mario Balotelli
May 12th, 2008 | by: Marco Stucazzo |

View Comments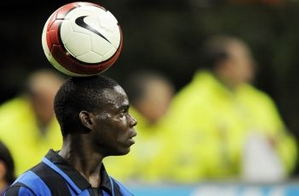 Ok, Ok, don't castrate me. After Nesta and Totti comes Balotelli. No shows isn't about crazy talented players of azzurri past (get ready for some Baggio action), it's about who's not going to Euro 2008 and Mario isn't going. Super Mario Balotelli is a force to be reckon with. At 17 years of age he has already surpassed David Suazo in the Inter Striking hierarchy. He manages to double the Italian content of Inter Plate every time he enters the field of play.
But Mario Balotelli won't even make it in the 2008 Olympic squad because the teenager will be turning 18 years of age in August. Balotelli was Born in Palermo to Ghanaian parents. And was then adopted by an Italian family form Brescia before making his way to the Inter's primavera side. Voilà his life story in less than 2 sentences! But Balotelli still can't play for Italy because of stupid paper issues.
Super Mario , and when I say Super I mean Super had this to mention when he spoke to Corriere Dello Sport earlier this month;
"I feel like a Second Division citizen. The Italian law is unjust and needs to be changed,"
"Even having been born here, I am still not being recognised as a citizen and I find that to be enormously unjust. "I have turned down an invitation to play for Ghana because I want to wear the Azzurri shirt. The reason I did so is because I was born in Italy and I have always lived there, so I feel like an Italian."
Hell I could play for the Azzurri (metaphorically speaking of course, and it probably be Baseball only) and this nerazzurro can't? I totally agree with Mr. Balotelli about the crappyness of Italian bureaucracy
Let the boy play ! The U21 squad needs Balotelli ad he'll be knockin' on the Senior Squads door very soon. I can see it now, Euro 2012 a strike duo of Stefano Okaka Chuka and Mario Balotelli, that would be a powerful frontline !
People who hate Linkin Park beware !
Subscribe

Italy World Cup Blog RSS Feed

Share
blog comments powered by Disqus