There's Something about the Marassi
April 23rd, 2012 | by: elaine |

Comments Off
It's one of the oldest functioning stadiums in Italy. Is it perhaps cursed or haunted? Genoa is a port city. Is it perhaps the sea air? Or perhaps the people of Genoa secrete some sort of secret pheromone that incenses football fans and drives them to madness? Whatever it is, this weekend showed that something is up at the Marassi.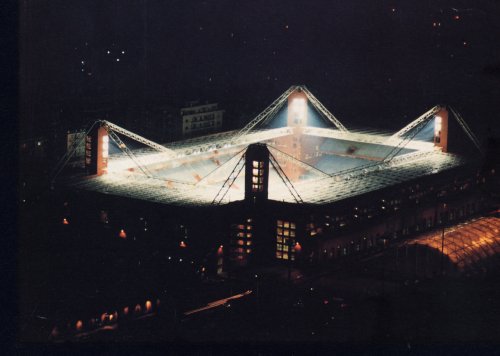 Flashback to Euro qualification. It's September of 2010 and the match is Italy vs. Serbia. You remember the images? Serbian fans, balaclavas, flares, smashed plexiglass, netting dividers being cut. Match suspended. Italy was awarded the 3-0 win. Why would Serbian fans do this? How would a violent protest in another country get you what you want in your own? How can you claim to be a fan of a sport, of a team, and then disrupt that sport, insult your team and give up the one thing every fan craves: victory? Furthermore, why would you risk being banned from the stadiums for the very game you claim to be supporting?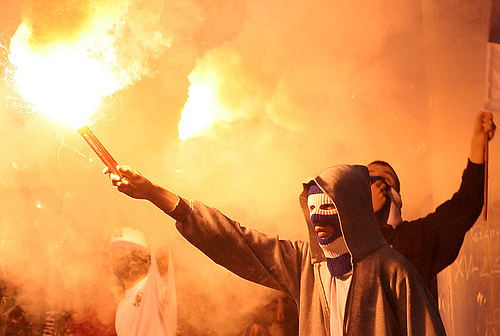 Well we all know how this ended up. Fines, games behind closed doors, bans and arrests for the ringleaders of those ultras. Plus the aforementioned 3-0 win awarded to Italy, which likely cost them their chance at the playoffs for Euro qualification. Unfortunately for Serbia, this wasn't the first time violence had touched their beloved football, domestically or internationally. But wouldn't it be nice if it had been the last?
For the Stadio Communale Luigi Ferraris, affectionately known as the Marassi, this also wasn't the last time fans would interfere with the beautiful game. Yesterday, disturbing images of Genoa Ultras throwing flares onto the pitch, climbing on top of the tunnel, threatening to invade the pitch, and asking for their own players to remove their shirts, claiming they weren't worthy to wear them. And who were they, exactly, causing the game they claim to love to be stopped for 40 minutes, to tell anyone they were or were not worthy to wear a shirt? All because they might be relegated… again?
Genoa have 9 Serie A titles and are a familiar face in Serie A. Every team has its bad years, and they aren't exactly strangers to Serie B, either. Maybe it was just the pain of following their rivals, Sampdoria, who were relegated the year before, that got to them? Or was the coffin they dragged through the streets of Genoa last year as a "funeral" for their rivals weighing heavily on them?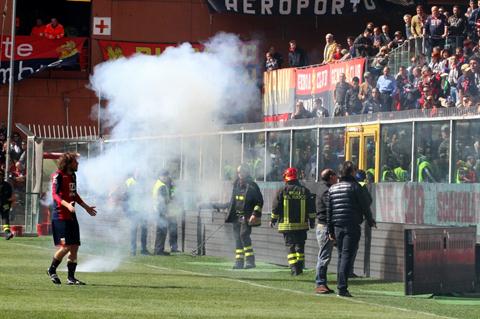 Either way, the images of these fans holding a whole stadium and 2 teams hostage instead of letting them determine who is or isn't relegated on the pitch is highly disturbing. More disturbing to hear their defense: that their throwing flares and their threats and holding their team hostage were "non-violent" and therefore okay. Or that losing to Siena 3-0 was okay, but not 4-0, despite the fact that either score cost them three points. Truly, some sort of madness has overcome them, as no rational mind could justify this nonsense.
And now, Genoa is forced to play its final two home games behind closed doors, and two of them so far have received 5 year bans from all sporting events for their actions. But worse, the humiliation they gave their players, their captain, even, by asking them to remove their shirts because they weren't worthy – how do they think that will motivate their team to stay in Serie A? In what universe is this display of "anger and concern" helping anyone? Who are players playing for if not their own fans?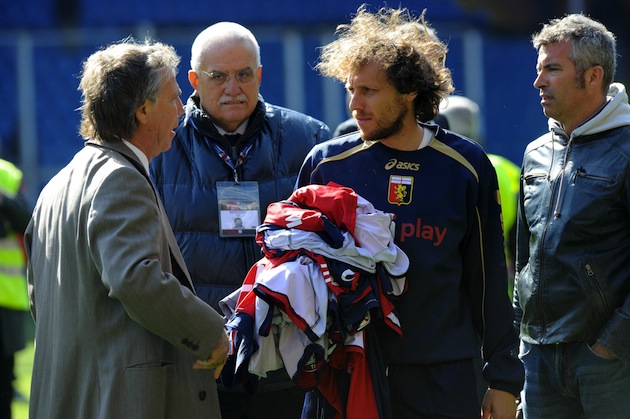 One thing is certain: unfortunately this is actually not just a problem at the Marassi. Maybe we've witnessed 2 events in the last few years at this stadium, but everywhere you look, there are fans behaving badly: racist chants, signs that cross the lines of healthy sportsmanship, fan violence outside of the stadiums, and yes, even people killed by fan violence. And more commonly, the kinds of things that happen online in a forum like this one, especially with rival fans or even with fans of the same team.
So at what point do fans sacrifice sport for their own twisted sense of justice? What true fan would risk a lifetime ban from a stadium just to throw a banana or make a monkey sound? Who wins when fans behave so badly? How do players not get discouraged when they leave everything they have out on the pitch, think they've won, only to have to play behind closed doors or forfeit a match because of their own fans?
One thing's for sure. They should check into the water at the Marassi. They seem to be setting a new standard there in Genoa for fans behaving badly.
Do you think the 5 year ban is enough for ultras who orchestrated the standoff in Genoa? Do you think playing 2 games behind closed doors will solve anything for the club? What did you think about the players being humiliated by their own fans?
Elaine is on Twitter where the spirit of the Marassi lives every day. @ItalyWCB
Subscribe

Italy World Cup Blog RSS Feed

Share
Comments are closed